Notice

Please visit the Contests Page and see if you want to enter any of the contests.

Welcome to BIONICLE Sets and Creations Wiki

673 since June 29, 2009!
You can create articles of your own creations and create articles about BIONICLEs designed by LEGO. So have fun!!
This Wiki needs help, and the users would be thankful if you helped them!
Before you create anything be sure you click the button that says Wikitext source so you can use the special wikitext e.g making a link to a different article.
Visit the Community Portal to see what exciting links this wiki has to offer or meet some of our Admins for help.
Contents
News
22 August: It's Matoro1's birthday today. Everyone go fill his Talk page with congratulations!
22 February: Kingdonfin's Birthday. On this occasion we will all gather round and say how amazing he is "cough" and congratulate him.
15 December: Abc8920's birthday! A momentous ocassion where we all gather round and tell him how proud of him we are give him the best birthday wishes we can pull out of our shrivelled black hearts.
11 October: Andrew1219 becomes our newest Sysop!
27 August: Kingdonfin made the 200th page!
15 July: Kingdonfin Is the newest Admin to this Wiki.
20 July: Matoro1 Is the new assistant siteleader.
Contribute to this wiki
To create a new article, just enter the article title in the box below. <createbox> width=24 break=no buttonlabel=Create new Article </createbox>
Not sure where to start?

Our Stories
We are very strong about our Members Stories. We love them! We also have a lot of them. Here are some of the current ones:
User of the Week
This week, the user chosen to stand in the middle of everyone's attention is... Andrew1219! Now, get back to work! Or, go congratulate him!
Featured article
Lothorna was a violent Ce-Matoran who aided in the imprisonment of Makuta Karabak only to be wounded and left behind by accident. The Makuta was able to place her in a Stasis tube and created the Matoran of Tethys from her anatomy. She was later freed by Tollubo and Eselox.
Featured Image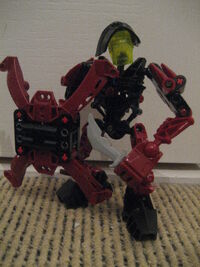 This cool image was made by User:Matoro1 for his character Eselox.
To learn more just visit

the page

.
Want to vote for the next best photo then click here
Construction
This Wiki is currently lacking canon articles. We encourage users to have a go at making some pages but, due to our partnership with Bionicle Reviews Wiki, users are allowed to copy articles from there.